Unfinished page
Исследования
Researching technologies is very simple. You can only research technologies with Исследования Facilities.
Screenshots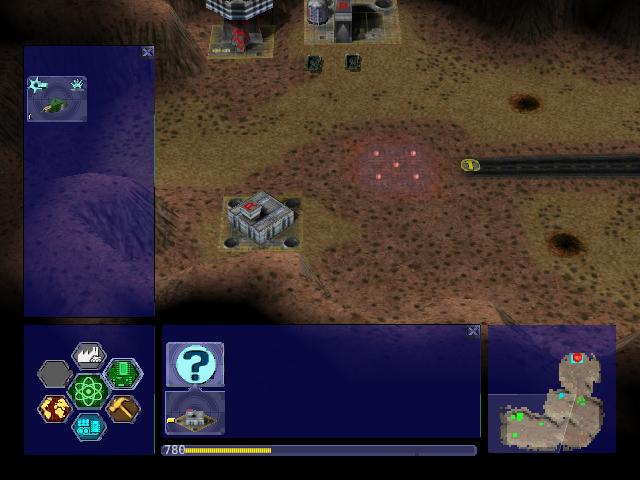 1: Selecting a topic to research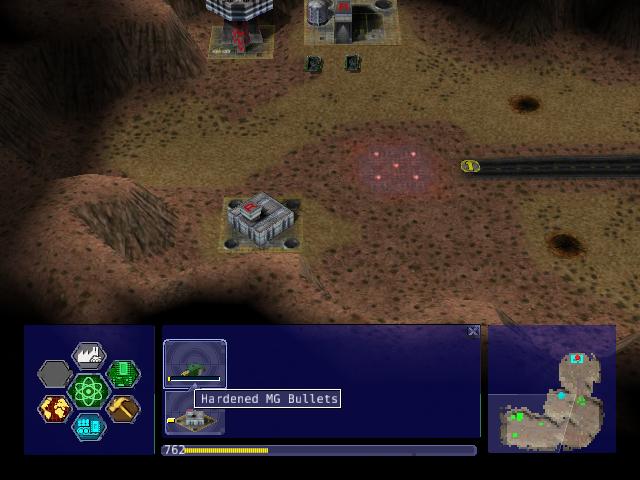 2: The topic being researched
Researching
Один игрок
In the single player game, you collect Artifacts from enemies and research them. Artifacts are small white boxes with a wrench above them, and can be collected by any юнит by moving to it.
Multiplayer/Стычка
In Multiplayer/Стычка games, you progress along a 'tech tree' - a couple of topics can be researched, which in turn will unlock more technologies - also referred to as progressing 'up the tech tree'.
Researching a topic
When you open the Исследования menu, a Fast Find menu with two rows will appear at the bottom of the screen. All your research facilities are shown on the second row. Clicking a research facility will zoom the camera to it.
Clicking the blank icon above a facility will show a set of icons on the left. You can hold the mouse over an icon to see it's name. Click an icon to start researching it. Only one center can research one technology at a time.
While a facility is researching, it displays a bar in it's Fast Find area. If the bar is green, the facility is gathering power. If it is yellow, the topic is being researched.
Исследования Completion
When research is completed, the game will inform you by a message and playing a sound – 'Исследование закончено'. If it was a major technology advancement, an entry will be made in the Экран разведки. You can check the entry for more information about the research.
Исследования Улучшения
You can research a Исследовательский модуль during the course of the game. To apply it, select a truck and left click a non-upgraded Исследования Center, and the truck will build it. However, the topic you are researching will be stopped until the module is built - it's your choice to let it build or wait.
Другое upgrades are also available for Исследования Centers, but these don't make you wait to apply an upgrade to a building.